oin us for Le Grand Fat Tour's finale event: 
THE 4TH ANNUAL WINTERBIKE CELEBRATION
Ladies and gentleman join us for fat tires, fresh tracks and hot toddies at the 4th annual Winterbike!  
Mountain Bike Vermont and  Kingdom Trails are cooking up another wintry day of mountain bike revelry. On February 28, we'll be gathering at the Kingdom Trails Darling Hill headquarters to lead a charge against Old Man Winter.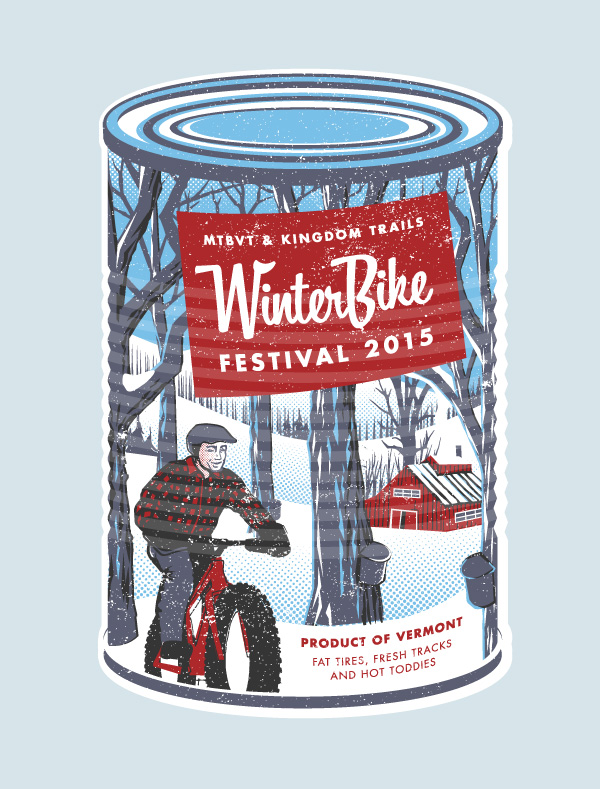 Technically, Winterbike is still a 1 day event on Saturday- but we have added a couple of extra activities around that one day of fatbike debuachery.
Basic Registration for the event, gives you access to the Kingdom Trails network and all Winterbike activities on Saturday meaning group rides, fatbike demos, food and beverages, music, fire, sugar on snow, games, race spectation, and swag!
New for this year, on Friday night, Kingdom Trails will host a social at the Publick House (formerly the Pub Outback). Come between 6:00 and 8:00pm for early registration and pre-gaming! Yup, skip the Saturday morning lineup and head straight into the event! If you plan to have dinner, reservations are strongly recommended, although there are some seats at the bar. The Publick House is popular, so think ahead. Your Winterbike wristband will get you 10% of your dinner on Friday and lunch on Sunday.
Demo Fatbikes will be available from the Vendors in the Expo area for 45 minute rides throughout the day on a first come first served basis. Demo loops will be signed.
The Remote Aid Station on the trails hosted by MTBVT is making a comeback with the usual local delights and personalities. And later in the day we have some new games before and after the 6X race to add a wee bit more competition and ridiculousness to the day.
After the race Saturday the Vermont Mountain Bike Association will hold a raffle for a Surly Krampus! Support VMBA and be entered to win. Tickets are on sale on VMBA.org. And the winner will be able to select a size of their choice! C'mon, support the trails, feel good about yourself, and win a bike! It's a no-brainer.
On Saturday evening the Wildflower will host a fixed menu pre-pay only dinner Juniper's. The dinner special is only available to registrants that have purchased tickets online so make sure to register for Winterbike early and select the dinner option of your choice to secure your reservation.
On Sunday morning we will host "disorganised" group rides. Also dubbed "recovery" rides, join us if you are one of those people that just can't get enough fatbiking.
Below is a tentative/general schedule- as the event approaches we will be adding details of the event and possibly shifting around the times based on the forecasted temperatures for the day. As we all know, fatbiking is snow condition and weather dependent so planning out the day will be an organic experience…
Friday Feb 27th
6:00-8:00 Early check in/onsite registration Social at The Burke Publick House.
Enjoy dinner specials and fine beverages
If you plan to dine, reservations are recommended as there is limited seating- although there are also some seats at the bar.
Saturday Feb 28th
7:00-8:30 Vendor Set up
7:30-10:30 Junipers Restaurant open for breakfast
8:15 Pre-reg check in/onsite reg. opens
8:30 Epic Ride* departs
8:45 ***Xtra Spicey Intermediate Ride departs
9:00 Expo opens/ Demo bikes available
9:30 **Spicey Intermediate Ride departs
9:30 ****NEMBA Intermellow** Ride departs
10:00 *****Intro Ride departs
10:00 Ladies Intro Ride Departs
10:15 Spicey Ladies Ride Departs
10:30 Remote Aid Station opens
11:30-2:00 Market Café and Junipers Restaurant open for lunch
12:00 Kegs are tapped
12:30 Remote Aid Station shuts down
1:00-3:00 Sugar on Snow
1:30 Race Registration closes
1:45 Racers Meeting
2:00 6X Race
3:30 Games/Awards/ VMBA Surley Crampus Raffle
5:00 Junipers Restaurant opens for dinner- reservations can be made with online registration. Reservations at any of the local restaurants are strongly recommended for that evening.
Sunday March 1st
10:00 People going out to ride- which makes group rides, nothing formal.
As of now, there will be at least 40 fatbikes available to demo from the following companies:
Surly
Salsa
Xprezo
Framed
Rocky Mountain
Borealis
Specialized
9:Zero:7
Local shops to contact for Fatbike rentals:
Rollickers Bike n Boards
East Burke Sports
The Village Sport Shop
*Epic Ride= 4-5ish hour ride on easy to advanced singletrack at a moderate to aggressive pace with a stop at the Remote Aid Station
** Somewhat Spicey Intermediate Ride= 3ish hours on easy to advanced singletrack at a moderate pace with a stop at the Remote Aid Station
***Xtra Spicey Intermediate Ride= 3ish hours on easy to advanced level singletrack at a moderate to aggressive pace
****NEMBA Intermellow Ride= a NEMBA member will lead a 3ish hour ride at a relaxed to moderate pace on easy to advanced singletrack with a stop at the aid station
*****Intro Ride= 1-2 hour mellow pace on easy to moderate trails
Register for Winterbike 2015 on Eventbrite.com– click the ticket link above to go there.
Looking for lodging options? Check the Accommodations listings at www.kingdomtrails.org
Are you an attendee and have a questions?
Contact ryan@mtbvt.com
Are you a vendor and have a question?
Contact lil@kingdomtrails.org
See you on the trails!
Special thanks to:
The Wildflower Inn
Burke Vacation Rentals
More details: MTBVT.com, Kingdomtrails.org and our Facebook Event Page
Are you an attendee and have a questions?
Contact ryan@mtbvt.com
Are you a vendor and have a question?
Contact lil@kingdomtrails.org