The Stowe Mountain Bike Club and Mountain Bike Vermont are at it again in 2016, bringing you Vermont's best antidote to the winter blues—Überwintern! What is Überwintern you ask? It's a day of fatbike revelry on powder-packed single track for those souls brave enough to keep charging on two wheels through the depths of winter.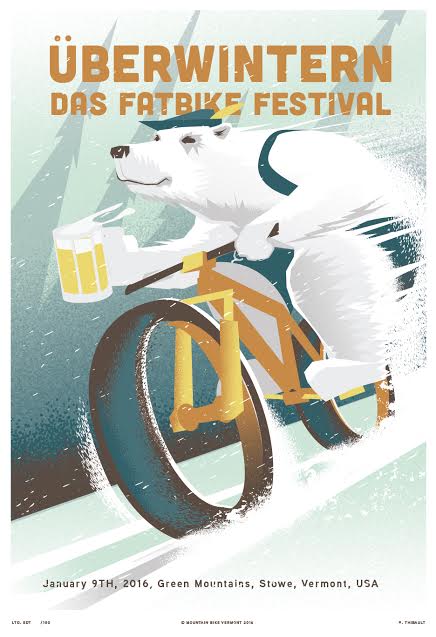 Join us Saturday January 9th, 2016 for a day of fatbike group rides, demos, and hearty brews around warm fires. "We couldn't be more stoked!" says event founder Ryan Thibault of MTBVT. "As a fatbiker myself, it's a privilege to add a little MTBVT flair to the fatbike phenomenon!"
Now in its fourth year, Überwintern 2016 will be staged out of the Sushi Yoshi parking lot situated on the Stowe rec' path and in close proximity to the Cady Hill Forest trailhead. Registration, group ride departures, demos, and lunch will be all take place at Sushi Yoshi, aka Überwintern HQ.
Your ticket price includes on-site demos, group rides, lunch (with both carnivorous and veggie options), as well as beverages. So pump up those tires, break out the extra layers, and get ready for a bike festival unlike any you've ever seen.
SCHEDULE
7:30 – Vendor setup
8:30 – Registration opens
9:00 – Demos begin
9:30 to 10:00 – Group rides depart
1:30 – 2:30 – Lunch is served
4:00 – Event ends… after party TBD
Participating Demo Shops:
Iride
Outdoor Gear Exchange
Mansfield Cycles
Chucks Bikes
Likin' Bikin'
Bicycle Express
Onion River Sports
The Jay Cloud
Fit Werx
Old Spokes Home
and More
Demo Bikes from:
Rocky Mountain
Scott
Kona
Cannodale
Trek
KHS
Foes
Cogburn
Xprezo
Surly
Salsa
Holy smokes that is a lot of bikes!!!
LOOKING FOR A PLACE TO STAY WHILE IN TOWN?
Our friends over at the Mountain Road Resort have generously offered 30% off your Stowe stay with the purchase of  Überwintern tickets. Now that is a deal!  The Resort is just minutes from the trailhead and promises some of the most comfortable accommodations in town. Register now and we'll email you a special promo' code.
Buy your tickets today! 
More in Facebook: https://www.facebook.com/events/518417721655401/