UPDATED INFO IN RED:
UBER UPDATE 01.04.19:
TEMPS AND GROOMING EFFORTS ARE SHAPING UP FOR A PREFECT DAY TOMORROW! IN ORDER TO PRESERVE THE BEST GROOMED SURFACE POSSIBLE TRAILS ARE CLOSED TODAY.
We received 5″ of super light yesterday. With warming temps and a squad of groomers headed out we are looking to be in great shape for Tomorrow. We'll have much of Cady Hill running, A local shuttle run and trails all the way up to Trapps Bierhall groomed for you.
PARKING: Like the Leaf Blower, there will be no on site parking at the event. We've converted ourt lot into the vendor area and arranged parking at Springer Miller and the Stowe Events Field parking lot behind Willy's Auto on Weeks hill. It's a quick 1/4 mile ride back over to Ranch Camp and the Vendor area.
The Stowe Trails Partnership, von Trapp Brewing and Mountain Bike Vermont are at it again in 2019, bringing you Vermont's best antidote to the winter blues—Uberwintern! What is Uberwintern you ask? It's a day of fatbike revelry on powder-packed single track for those souls brave enough to keep charging on two wheels through the depths of winter!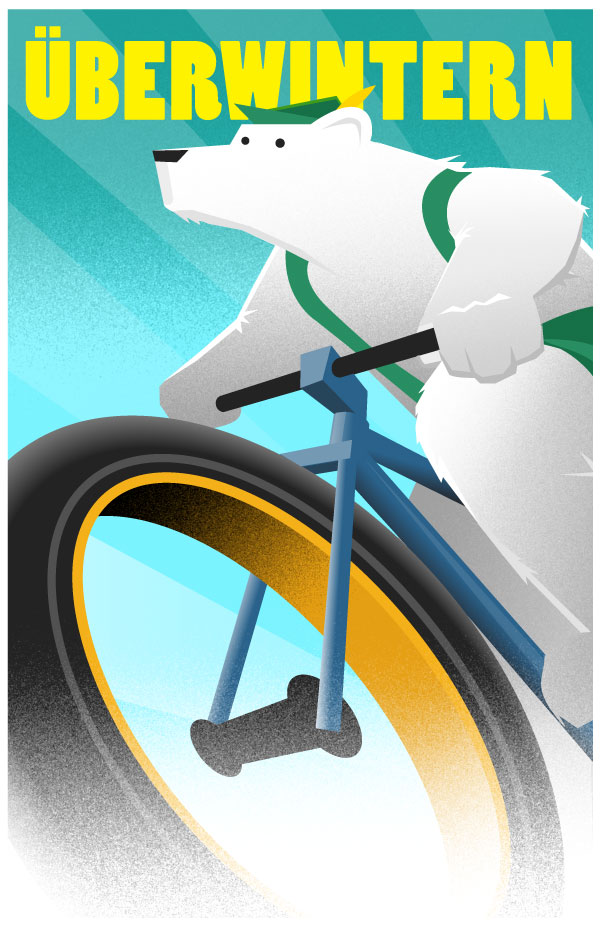 Join us Saturday, January 5th, 2019 for a day of fatbike group rides, demos, and hearty brews around warm fires.
Now in its seventh year, Uberwintern 2019 will be staged out of Ranch Camp, situated on the Cady Hill trailhead. An additional "remote aid station" a.k.a party central will be located to the fire pit at the in front of the von Trapp Brewery where attendees can enjoy a beverage and light fare. Registration, group ride departures, demos, and lunch will be all take place at Ranch Camp, aka Uberwintern HQ.
Your ticket price includes on-site demos, group rides, lunch (with both carnivorous and veggie options), and a beverage. So pump up those tires, break out the extra layers, and get ready to party MTBVT style… it's tradition!
This year Highland Mountain Bike Park will return with a fleet of demo bikes and a their shuttle van and trailer. Yup, shuttles return for 2019!!! Thanks Highland crew!
RENTALS VS. DEMOS
DEMOS: Each participating shop will have demo bikes available. Demo bikes are allowed out for 45 minutes to one hour depending on each participating shops discretion. Demo bikes are not typically allowed out on the group rides as the group rides leave for more than the allotted hour demo session.
RENTALS: Rentals are available on a shop by shop basis. You are encouraged to contact shops in advance if you would like to rent a bike for the full day. Prices vary by shop.
PARTICIPATING SHOPS:
Outdoor Gear Exchange – Rentals demos on-site
Ranch Camp – Rentals and demos on-site
Highland Mountain Bike Park – rentals and demos on-site
Bicycle Express – rentals and demos on-site
The Jay Cloud – call for rentals in advance, they can deliver to the event but will not have a tent
Onion River Outdoors – Rentals and demos on-site
Chucks Bikes – TBD
SCHEDULE
8:00 Vendor Set up
8:15 Reg opens
9:00 Expo opens/ Demo bikes available
RIDE DEPARTURE SCHEDULE (Subject to change)
9:15 Epic Ride departs
9:30 Shuttles start running, first come first serve
9:20 Advanced Ride departs
9:30 – 10:00 Intermediate and beginner rides depart
10:30 Remote Aid Station opens
12:00 Kegs are tapped
3:00 Remote Aid Station shuts down… maybe
12:30-2:30 Lunch is served
3:30 Party Time
4:00 Demo area closes
---
GROUP RIDES
In typical MTBVT fashion we have a few awesome group rides planned. That said, please be patient with us as we assess where we will be taking you. All rides are weather dependent, social pace, and have a few stops to rest and enjoy nature.
Epic Ride – There will be multiple epic rides departing. Each will run 4 hours in duration and up to 20ish miles of variable terrain. These rides are for expert riders with expert stamina and a high tolerance. If you are new to fat biking or don't ride regularly this ride is NOT for you.
Advanced Ride – Similar to the epic ride, this ride's duration is up to 3ish hours. The pace is for avid riders that enjoy covering ground at a steady pace. You can expect up to 15ish miles of riding over variable terrain.
Intermediate – These rides are for most folks looking to have a good time, stop at the fire for a bit, and be guided around Stowe's central trails. this ride will be three hours in duration with opportunities to bail out or put in a few extra miles.
Beginner ride – Beginner rides take folks up the rec path, along the river and back down to the venue. for those looking for more, riders will have an opportunity to ride up to the camp fire in on Cady Hill and test their skills on a section of intermediate terrain with a reward at the top.