Fatbike ride, aid station party, more fatbike riding, back to HQ (Backyard), outdoor fireside feast, some beverages, and more!
01.20.22 – UPDATES FOR TICKET HOLDERS
Überwintern is sold out! Please note that we are at capacity. There will be no day of ticket sales. Thank you all for the support.
Greetings Überwintern ticket holders! Please read the following important updates about Saturday's event. It's a bit wordy, I know, but this will expedite you getting right to the trail and keep the day rollin' supa smooof. Note that changes have been made based on weather and trail conditions to maximize fun!
TICKETS:
The event is sold out. Yeeew! Thank you for preregistering. Note that there will be no on-site ticket sales.
PARKING:
all parking for Überwinter is OFF SITE. Please park at Springer Miller (parking lot across from the Cady Hill lot) or at the quiet path / Stowe events field parking lot behind Willie's Auto. You can ride the rec path or Mountain Road sidewalk right to Ranch Camp / Backyard.
Stowe events field parking lot location
REGISTRATION:
Registration time has been moved. It is now 9:00-11:00. The morning is predicted to be COLD. This will give things time to warm a bit. Registration will take place at the Backyard.
CONDITIONS:
The 10″+ of snow that blanketed trails on Monday gave us a panic attack! We turned that anxiety into action and have been grooming ever since. Most of the town loops are done and will be in great shape. The trails will range from fast and crusty in the pine woods to packed pow in the open meadows. Note that 80% of our trails are groomed by foot (no machine and all voluntary effort) which means variabel conditions. As of now, things are looking great!
ROUTE:
We will NOT be conducting a mass start. The updated route would cause a massive bottleneck. Instead, we will be providing a map and directions for the predetermined loop. You are welcome to venture out any time after registering. The loop is about 8 miles and passes the aid station twice. You are also welcome to freestyle it and ride any loop of your choosing on all open trails (though our double-aid-station-stop loop guarantees twice the fun. 🙂
SHUTTLES:
Thanks to our friends at Highland Mountain Bike Park we will be running shuttles throughout the day. Leave it to Highland to bring DH to a fatbike fest! The van will pick up participants at the Backyard parking lot and shuttle to the top of a trail that drops back down to town (shhhh, we'll tell you more about it upon arrival). Shuttles are first come first serve and leave approximately every 30 minutes.
LUNCH:
All attendees will be provided with a lunch voucher for the Backyard or Ranch Camp upon registering. Each voucher is good for one of the following menu items and a Zero Gravity beer. Thank you ZG! Lunch will be served from 1:00 to 4:00. Just visit the Yard or Ranch camp and we'll take care of you. Sit inside or outside by the fires. Note that masks are required for entry at both locations.
So, that's it! Fire any questions you may have my way. And again, thank you for joining us for the 10th annual Überwintern Fatbike Festival!
—
Ranch Camp, The Backyard and Mountain Bike Vermont are proud to bring you Vermont's best antidote to the winter blues—Uberwintern #10 presented by Zero Gravity Brewing! What is Uberwintern you ask? (Here's a taste of Uber's past). In short, it's a day of fatbike revelry on powder-packed single track for those souls brave enough to keep charging on two wheel through the depths of winter!
Join us Saturday, January 22nd, 2022 for a day of fatbiking, feasting, and Zero Gravity brews around warm fires.
Now in its 10th year, Uberwintern will be staged out of the Backyard restaurant, adjacent Ranch Camp and situated on the Cady Hill trailhead. A new remote aid station, a.k.a party central, will be set up for attendees to enjoy some light fare and a brew. Registration, ride departure and lunch will be all take place at the Backyard, aka Uberwintern HQ.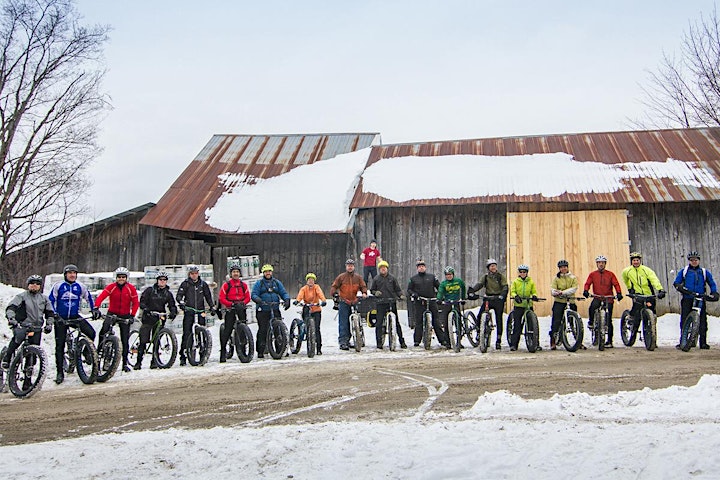 Above: Überwintern #1 way back when. Not much has changed beyond the size of the crowd!
Tickets are limited to 150 total and the event will sell out. Your ticket price includes the ride, aid station, lunch (with both carnivorous and veggie options), as well as a beverage with proceeds going to the Loyal To Our Soil trail grant. So pump up those tires, break out the extra layers, and get ready to party MTBVT style… it's tradition!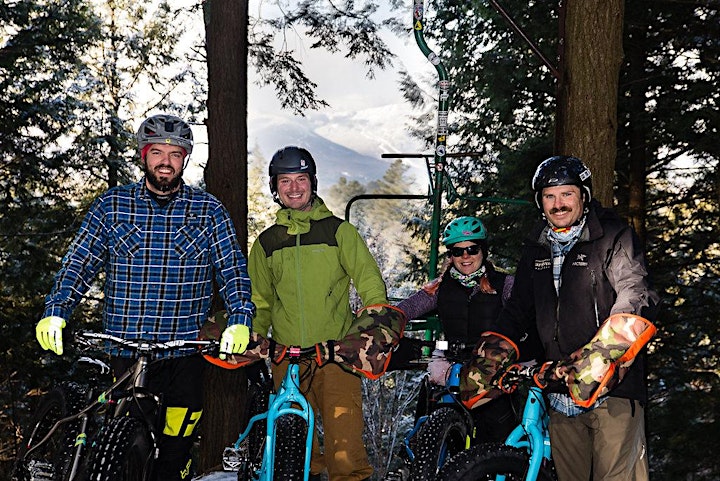 Above: A collection of rare humans you are sure to see at the aid station.
RIDE ROUTE: New this year, we'll all be following a groomed, mapped and signed course out to the aid station and back to town. The course will be optimized based on weather and groomed conditions. If you've ever ridden the Vermont Overland or other gravel grinder style rides, you know how fun this format can be! Ride with everyone, choose your own pace, form your own group, and stay at the aid station as long as you want! Just follow the maps/signs and we'll take care of the rest.
RENTALS: Rentals are available at Ranch Camp and other regional shops. You are encouraged to contact shops in advance if you would like to rent a bike for the full day. Prices vary by shop.
SCHEDULE
8:00 Vendor Set up
8:15 Reg opens
9:00 Expo opens
RIDE DEPARTURE
9:00 Mass ride departure (think Vermont Overland or Waterbury Gravel Grinder).
9:30 Shuttles start running, first come first serve
10:00 Remote Aid Station opens
12:00 Kegs are tapped
3:00 Remote Aid Station shuts down… maybe
2:00-4:00 Lunch is served
PARTICIPATING SHOPS & VENDORS: If you are a shop or vendor and wish to participate please reach out to ryan@mtbvt.com.